Welcome to our comprehensive guide to the best resorts in Hopkins, Belize, where your dream getaway awaits. We will unveil the top-rated resorts that offer unmatched luxury, breathtaking views, and unforgettable experiences. Whether you seek adventure, relaxation, or a mix of both, our curated selection is designed to cater to your every desire. Discover the hidden gems of Hopkins and make memories that will last a lifetime.
Hopkins Bay Belize: Your Ultimate Tropical Paradise Getaway
Hopkins Bay Belize, where luxury meets natural beauty. As one of the most sought-after destinations in the Caribbean, Hopkins Bay Belize offers an unforgettable tropical paradise getaway that will leave you mesmerized.
Nestled along the stunning coastline of Belize, this hidden gem boasts pristine white sandy beaches, crystal-clear turquoise waters, and lush tropical rainforests. Whether you're seeking relaxation, adventure, or a combination of both, Hopkins Bay Belize has it all.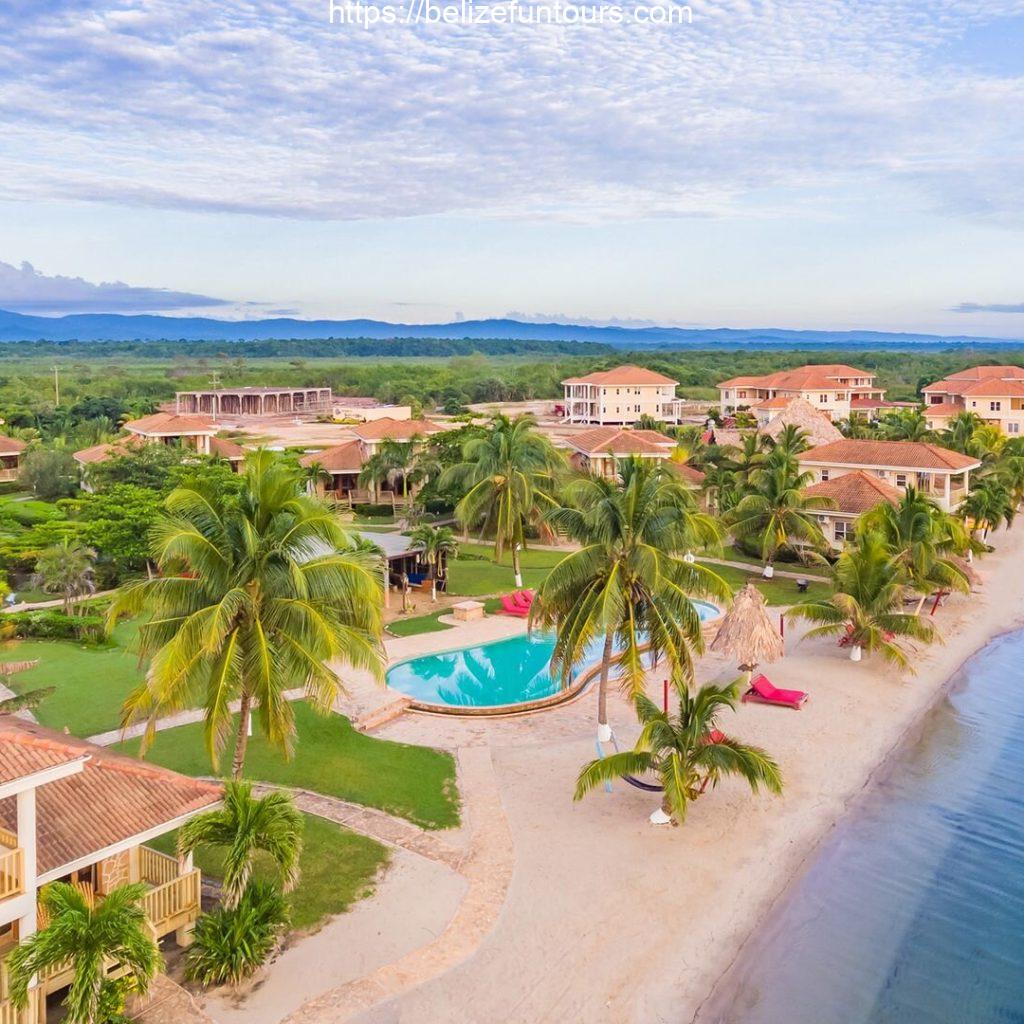 Unparalleled Comfort and Luxury: Experience Hopkins Bay Belize
When it comes to providing guests with unmatched comfort and luxury, Hopkins Bay Belize stands out among the finest resorts. The resort prides itself on offering a variety of exquisite accommodations that cater to diverse tastes and preferences. Whether you seek a spacious beachfront villa with a private pool or a charmingly appointed suite with breathtaking ocean views, every detail has been carefully curated to ensure your utmost satisfaction.
Beachfront Villas: Your Private Oasis
Beachfront villas are designed to provide the ultimate retreat for our esteemed guests. Imagine waking up to the soothing sound of waves crashing on the shore, stepping onto your private terrace, and immersing yourself in the beauty of the Caribbean Sea. These spacious villas boast luxurious amenities and modern conveniences, including private pools where you can cool off and relax at your leisure. The blend of tropical charm and contemporary comfort ensures a truly indulgent experience.
Ocean View Suites: Captivating Panoramas
For those seeking breathtaking ocean views, ocean view suites are an excellent choice. These elegantly appointed accommodations offer a picturesque vista of the Caribbean Sea from the comfort of your room. Unwind on your balcony, sip a refreshing beverage, and watch the vibrant colors of the sunset paint the sky. The suites are thoughtfully designed with your comfort in mind, providing a serene sanctuary for you to rejuvenate and unwind.
World-Class Spa: Pure Relaxation
The world-class spa at Hopkins Bay Belize offers a range of indulgent treatments to pamper your mind, body, and soul. From soothing massages to revitalizing facials, our skilled therapists ensure an experience of pure bliss. Let the stress melt away as you succumb to the tranquil atmosphere and expert hands that will leave you feeling refreshed and invigorated.
Infinity Pool: A Serene Oasis
Indulge in the ultimate poolside experience at our infinity pool, which overlooks the mesmerizing Caribbean Sea. Take a refreshing dip or lounge on the comfortable sunbeds while immersing yourself in the panoramic views. The tranquil ambiance combined with the captivating scenery creates a serene oasis where you can unwind and soak up the tropical bliss.
Award-Winning Dining: Culinary Delights
Exceptional cuisine is an integral part of any luxurious experience. The award-winning restaurants at Hopkins Bay Belize offer a delectable range of culinary delights that will tantalize your taste buds. From fresh seafood delicacies to international flavors prepared with a local twist, our talented chefs ensure an unforgettable dining experience. Pair your meal with a carefully selected wine from our extensive collection, and allow our attentive staff to cater to your every need.
Hopkins Bay Belize strives to provide our guests with an unparalleled level of comfort and luxury. Our meticulously designed accommodations, world-class spa, infinity pool with breathtaking views, and award-winning dining options all contribute to an unforgettable experience. Whether you seek relaxation, adventure, or a romantic getaway, our resort is the perfect destination to create cherished memories that will last a lifetime. Discover the beauty of Hopkins Bay Belize and indulge in a world of pure bliss and tranquility.
The Lodge at Jaguar Reef: Where Nature Meets Luxury
Looking for a place where you can escape the ordinary and immerse yourself in an extraordinary experience? Look no further than The Lodge at Jaguar Reef. Nestled amidst the breathtaking beauty of the jungle and the pristine shores of the Caribbean Sea, our secluded retreat offers a harmonious blend of tranquility and adventure, creating a haven for nature enthusiasts and luxury seekers alike.
Tranquil Accommodations in a Pristine Setting
Staying at The Lodge at Jaguar Reef, you'll find yourself surrounded by nature's wonders. The elegantly appointed accommodations provide the perfect sanctuary for relaxation. Each room has been thoughtfully designed to ensure your utmost comfort, offering modern amenities that cater to your every need. From plush bedding to spacious private balconies, every detail has been carefully considered to create a truly remarkable experience.
A Culinary Journey Through Belizean Delights
Prepare to awaken your taste buds with the tantalizing flavors of our world-class cuisine. Expert chefs skillfully blend local and international ingredients, creating a fusion of flavors that showcase the best of Belizean culinary traditions. Whether you prefer a romantic candlelit dinner under the stars or a casual beachfront feast, our dining experiences promise to delight even the most discerning palate. Savor the fresh seafood, indulge in tropical fruits, and let your taste buds embark on a journey of culinary bliss.
Thrilling Adventures Await
Belize is renowned for its natural wonders, and at The Lodge at Jaguar Reef, you have the opportunity to discover them firsthand. Embark on thrilling adventures led by our expert guides who will accompany you every step of the way. Immerse yourself in the vibrant coral reefs as you dive into the crystal-clear waters. Encounter exotic wildlife on mesmerizing jungle hikes. Explore ancient Mayan ruins and learn about the rich cultural heritage of this extraordinary destination. Whatever your sense of adventure craves, Belize offers it in abundance.
Rejuvenation and Serenity at our Tropical Oasis
After a day filled with exciting adventures, it's time to indulge in pure relaxation at our rejuvenating spa. Here, ancient healing techniques are combined with modern therapies to create a truly transformative experience. Let your worries melt away as you enjoy a soothing massage, revitalize your skin with luxurious treatments, or simply bask in the serenity of our tropical oasis. Our spa offers a sanctuary of calm and renewal, allowing you to escape the stresses of everyday life and embrace a state of blissful tranquility.
A Commitment to Exceptional Experiences
The Lodge at Jaguar Reef is dedicated to providing you with an exceptional experience that exceeds your every expectation. The passionate and attentive staff is committed to ensuring that your stay with is nothing short of extraordinary. Whether you seek adventure, relaxation, or a seamless blend of both, guaranteeing your every need is catered to.
The Lodge at Jaguar Reef is a destination where nature meets luxury, offering a unique and unforgettable experience. With its tranquil accommodations, world-class cuisine, thrilling adventures, rejuvenating spa, and dedicated staff, it is the perfect place to escape the ordinary and embrace the extraordinary. Discover the magic of Belize and create memories that will last a lifetime at The Lodge at Jaguar Reef.
Exploring the Beauty of Belizean Dreams Resort: Your Ultimate Tropical Escape
Welcome to Belizean Dreams Resort, where paradise meets luxury. Nestled along the stunning coastline of Belize, this exclusive resort offers an unparalleled experience for those seeking a tropical escape like no other. From pristine beaches to vibrant coral reefs, Belizean Dreams Resort is the epitome of tranquility and opulence. In this comprehensive guide, we invite you to discover the wonders of this remarkable destination and why it deserves to be at the top of your dream vacation list.
A Beachfront Oasis
Immerse Yourself in Luxury Accommodations
At Belizean Dreams Resort, we pride ourselves on providing the finest accommodations that cater to your every need. Each suite and villa is thoughtfully designed with elegance and comfort in mind. With spacious living areas, private balconies overlooking the turquoise Caribbean Sea, and plush amenities, you'll experience the perfect blend of relaxation and indulgence.
Unforgettable Dining Experiences
Indulge your taste buds in our exquisite dining options that showcase the vibrant flavors of Belize. From fresh seafood caught daily to authentic Belizean dishes, talented chefs create culinary masterpieces that will leave you craving for more. Enjoy a romantic candlelit dinner on the beach or savor the delectable offerings at our beachfront restaurant. We ensure every meal is a celebration of taste and sophistication.
Adventure Awaits
Dive into the Depths of Belize's Marine Life
For those seeking adventure beneath the waves, Belizean Dreams Resort offers exceptional diving experiences. Explore the world-renowned Great Blue Hole, an underwater sinkhole that attracts divers from around the globe. Swim alongside vibrant coral reefs teeming with tropical fish, encounter majestic sea turtles, and marvel at the awe-inspiring beauty of the marine ecosystem. Our professional dive instructors will guide you through these extraordinary underwater realms, ensuring an unforgettable adventure.
Thrilling Excursions in the Heart of Belize
Embark on a journey through the lush jungles and ancient ruins that make Belize a treasure trove of cultural and natural wonders. Discover the mystical Maya ruins of Xunantunich, where you can climb towering pyramids and witness panoramic views of the surrounding rainforest. Experience the adrenaline rush of zip-lining through the canopy or embark on a thrilling cave tubing expedition along winding subterranean rivers.
Relaxation and Rejuvenation
Unwind in Serene Surroundings
Indulge in ultimate relaxation at our tranquil spa, where skilled therapists will pamper you with a range of rejuvenating treatments. From soothing massages to invigorating facials, our spa offers a sanctuary for your mind, body, and soul. Immerse yourself in the peaceful ambiance as you melt away the stresses of everyday life and emerge renewed and revitalized.
Soak Up the Sun on Pristine Beaches
Belizean Dreams Resort boasts miles of pristine beaches, caressed by gentle sea breezes and bathed in warm sunlight. Lounge on the soft, powdery sands, sipping on a refreshing cocktail from the beachside bar. Take a leisurely stroll along the shore, feeling the gentle waves lapping at your feet. Whether you seek solitude or companionship, our breathtaking beaches provide the perfect backdrop for blissful relaxation.
Belizean Dreams Resort stands as a beacon of unparalleled luxury, adventure, and serenity in the heart of Belize. From the moment you step foot on our pristine shores, you will be captivated by the natural beauty that surrounds you. Whether you seek an action-packed adventure, a romantic getaway, or a tranquil retreat, Belizean Dreams resort offers an all-encompassing experience tailored to your desires.
Unleashing Adventure at Hamanasi Adventure & Dive Resort
Welcome to the thrilling world of Hamanasi Adventure & Dive Resort, where unforgettable experiences and unparalleled adventures await. We are thrilled to present to you a haven for adventure enthusiasts, nature lovers, and those seeking a truly extraordinary getaway. Nestled on the stunning shores of Belize, Hamanasi Adventure & Dive Resort offers a remarkable blend of natural wonders, adrenaline-pumping activities, and unparalleled hospitality. Join us on this journey as we uncover the hidden gems of this exceptional resort and showcase why it is the ultimate destination for adventure seekers.
Immerse Yourself in Natural Splendor
At Hamanasi Adventure & Dive Resort, nature takes center stage. Surrounded by the mesmerizing beauty of Belize's tropical rainforests and pristine Caribbean beaches, guests are treated to a sensory extravaganza unlike any other. As you wander through lush canopies and vibrant flora, you'll encounter an incredible array of wildlife, from colorful birds to elusive jungle creatures. Our resort serves as a gateway to explore the wonders of Belize's national parks, where thrilling hiking trails and breathtaking waterfalls await. Immerse yourself in the natural splendor of this captivating destination and let the magic of Belize ignite your sense of adventure.
Diving into Uncharted Depths
For diving enthusiasts, Hamanasi Adventure & Dive Resort is an absolute paradise. Embark on a scuba diving adventure in the world-renowned Belize Barrier Reef, a UNESCO World Heritage Site, and discover a vibrant underwater world teeming with life. The crystal-clear waters offer unparalleled visibility, allowing you to witness the kaleidoscope of marine creatures, including majestic sea turtles, playful dolphins, and breathtaking coral formations. Whether you're a seasoned diver or a beginner, our experienced dive instructors will guide you through the depths, ensuring a safe and exhilarating experience. Prepare to be awe-inspired as you explore the mysteries of the deep blue sea.
Thrilling Adventures for Every Seeker
At Hamanasi Adventure & Dive Resort, adventure knows no bounds. Whether you're an adrenaline junkie or simply looking to step out of your comfort zone, our wide range of thrilling activities has something for everyone. Embark on a heart-pounding zip-lining adventure through the lush rainforest, feeling the rush of adrenaline as you soar above the treetops. Set off on an exhilarating river kayaking expedition, navigating through gentle rapids and marveling at the untouched beauty of the surrounding landscape. For the avid explorer, our guided jungle hikes offer an opportunity to encounter rare wildlife species and witness nature's raw magnificence up close. Indulge your adventurous spirit and create memories that will last a lifetime.
Indulge in Unparalleled Luxury
After a day filled with exhilarating adventures, retreat to the lap of luxury at Hamanasi Adventure & Dive Resort. Our accommodations are thoughtfully designed to provide the utmost comfort, blending seamlessly with the natural surroundings. From charming treehouses nestled amidst the canopy to spacious beachfront suites with panoramic ocean views, every room offers a sanctuary of relaxation. Unwind in the infinity pool overlooking the azure Caribbean Sea or pamper yourself with a rejuvenating spa treatment. Delight your taste buds with the delectable flavors of Belizean cuisine at our world-class restaurants, where fresh, locally sourced ingredients take center stage. Experience the epitome of luxury and let us cater to your every need.
Exceptional Hospitality and Service
Hamanasi Adventure & Dive Resort, is committed to providing exceptional hospitality, the dedicated team is passionate about ensuring that your stay exceeds all expectations. From personalized recommendations for the best dive spots to arranging unique cultural experiences, we go the extra mile to make your vacation truly unforgettable. Every interaction is infused with warmth and genuine care, making you feel like a cherished member of our extended family. Attention to detail and commitment to service will leave a lasting impression, ensuring that you return to Hamanasi Adventure & Dive Resort time and time again.
Seiri Del Mare – Unlock the essence of Hopkins
When it comes to picturesque coastal destinations, few places can rival the exquisite beauty of Seiri Del Mar. Nestled along the shimmering shores of Hopkins Belize, this hidden gem offers an enchanting escape from the hustle and bustle of everyday life. With its pristine beaches, captivating landscapes, and rich cultural heritage, Seiri Del Mar is a paradise waiting to be discovered.
A Coastal Haven of Pristine Beaches
One of the main draws of Seiri Del Mar is its collection of pristine beaches that stretch as far as the eye can see. With soft, golden sands and crystal-clear waters, these beaches provide the perfect setting for relaxation and rejuvenation. Whether you're basking in the sun, taking a leisurely stroll along the shoreline, or engaging in thrilling water sports, Seiri Del Mar's beaches offer endless opportunities for enjoyment.
Embracing Nature's Splendor
Seiri Del Mar is blessed with an abundance of natural beauty, making it a paradise for nature enthusiasts. The area is home to lush forests, breathtaking cliffs, and stunning coastal trails that offer panoramic views of the ocean. Hiking through these scenic landscapes allows visitors to immerse themselves in the tranquility of nature, while also capturing Instagram-worthy moments along the way.
Gastronomic Delights: A Culinary Journey
No visit to Seiri Del Mar would be complete without indulging in its culinary delights. The town is renowned for its fresh seafood, which is skillfully prepared by local chefs to create a symphony of flavors. From succulent grilled fish to delectable shellfish dishes, the local cuisine reflects the bountiful harvest of the ocean. Visitors can savor these mouthwatering delicacies in cozy waterfront restaurants, enjoying the sea breeze as they embark on a gastronomic adventure.
The Magic of Seiri Del Mar: Unforgettable Experiences Await
Seiri Del Mar is a destination that encapsulates the magic of coastal living. Its serene beauty, vibrant culture, and delectable cuisine combine to create an experience that lingers in the hearts of all who visit. Whether you're seeking a romantic getaway, a family vacation, or a solo adventure, this coastal paradise has something for everyone.
Seiri Del Mar stands as a testament to nature's awe-inspiring beauty and the enduring charm of coastal towns. Its pristine beaches, breathtaking landscapes, rich cultural heritage, and delectable cuisine make it a destination worth exploring. So pack your bags, immerse yourself in the wonders of Seiri Del Mar, and create memories that will last a lifetime.